Announcements
Thank you for your interest.

The Melbourne Prize for Urban Sculpture 2011 and finalist exhibition have now closed. Please refer to this website for further information.

Click here for the exhibition catalogue (4mb)
Click here for a video of the 2011 finalist exhibition at Federation Square
2011 FINALISTS


Bianca Hester – Melbourne Prize for Urban Sculpture 2011 winner

Isaac Greener & Lucas Maddock – Professional Development Award 2011 winner
Sonia Leber & David Chesworth
Clive Murray-White
Tom Nicholson
Stuart Ringholt
Civic Choice Award 2011 – this award is presented to the finalist with the highest number of votes cast by the public during the Federation Square exhibition. The recipient of the Civic Choice Award 2011 is Isaac Greener & Lucas Maddock for their work Apostle No. 2.

Please click on the link above for information and images from the finalist exhibition.
Entry Form
ENTRIES ARE NOW CLOSED
Click here to view an example of the entry form.
Prize Details
MELBOURNE PRIZE FOR
URBAN SCULPTURE 2011
$60,000 cash
Supported by The Vera Moore Foundation, The Tallis Foundation and The Melbourne Prize Trust.
PROFESSIONAL DEVELOPMENT AWARD 2011
$10,000 cash
A return international air ticket and a residency at The Victorian College of the Arts, Sculpture & Spatial Practice Studios, the University of Melbourne.
Details of the residency will be negotiated between the recipient and The Victorian College of the Arts following the announcement.
This award will be presented to a finalist in the Melbourne Prize for Urban Sculpture 2011.
Supported by Nathan and Pamela Jacobson, the Professional Development Award Trust, Qantas and the Victorian College of the Arts.
CIVIC CHOICE AWARD 2011
$5,000 cash
To be awarded to a finalist with the most public votes cast, between 7 and 21 November 2011, by visitors to the free public exhibition at Federation Square and at www.melbourneprizetrust.org
Supported by Nathan and Pamela Jacobson.
An artist fee of $4,000 (incl. GST) will provided to a (maximum of) six (6) finalists to assist with costs associated with preparing entries for the public exhibition.
Judging
Max Delany
Director, Monash University Museum
of Art
Juliana Engberg
Artistic Director, Australian Centre for Contemporary Art
Simon Perry
Artist & Sculpture Coordinator, School of Art, RMIT University
Professor Marie Sierra
Artist & Head, School of Visual & Performing Arts, University of Tasmania
Dr Gerard Vaughan AM
Director, National Gallery of Victoria
Key Dates
Entries open
18 April 2011
Entries close
15 June 2011
Finalists announced
13 July 2011
Finalists' work exhibited at
Federation Square
7 and 21 November 2011
Finalist announced
9 November 2011
Civic Choice Award 2011
recipient announced
25 November 2011
2011 Partners
& Patrons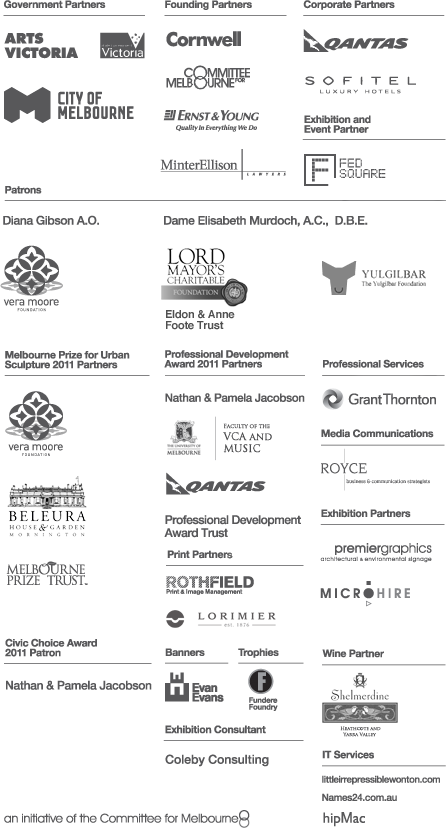 Past Recipients
2008
Melbourne Prize for
Urban Sculpture 2008
Alexander Knox
Professional Development Award
Tom Nicholson
VicUrban Award
Louise Paramor
Civic Choice Award
Elaine Miles
2005
Melbourne Prize for
Urban Sculpture 2005
OSW: Terri Bird, Bianca Hester, Natasha Johns-Messenger and Scott Mitchell
Professional Development Award
Karen Abernethy
Fabrication Award
Simon Perry
Civic Choice Awrad
Matthew de Moiser